New baby products we LOVE
Having already had one baby already I thought shopping for essentials would be a breeze, it would be quick and cheap as surely I knew the things I needed, and in turn the things I didn't need also. Which in some cases is true but I definitely found myself spending more money during this last pregnancy, more money but fewer products. It was as if for me the knowing what worked well last time gave me permission to buy the best of the best because I knew I needed it and it would make my life easier (good logic right?). Its hard first time round, it's daunting and your being swallowed whole into this baby product world you didn't even know existed. Each company claiming to be better than the other, how are we supposed to select which one we think is best? The only way to know is experience and if we don't have it we turn to people who have. I was lucky enough to have friends with babies already, who could streer me in the right direction but that didn't stop me purchasing silly things that I didn't need. The wonderful blessing that comes with a big Instagram following is the fantastic advice I've received, this along with being introduced to different products I may have missed or evennot products not available on the high street.
I have compiled a list of my top 10 products and brands we have loved using so far these past 13 weeks, I will show you some pictures and link to sellers to make it easy for you to check them out too. Not all these products will work for everyone and this isn't a sales pitch, it's simply a chance to show you how I'm making my life a little easier. I so often receive messages about the products we use, what made us decide to use them? Are they any good? Are they good value for money? Deciding to spend hundreds on furniture, car seats, pushchairs... Its a huge decision to make so here's what we love.
This is without a doubt my most recommended product, this sleeping nest can be used for both day and nighttime sleeping and its unique shape means it makes all babies transition into their new surroundings as smooth as possible. It also has the tummy band which adds extra reassurance as new parents, it holds baby gently in place but strongly enough for your baby's safety. Olives first few months were rough, she encountered some health issues from the get go and it was a huge relief for me to see how much the Cacoonababy bought her comfort and allowed her the recovery she needed whilst limiting the other problems that many newborns can suffer from in their first few months. Here are some of the benefits...
Ensures baby lies in the correct position on his back.
Improves quality and length of baby's sleep.
Limits the risk of 'flat head syndrome' (positional plagiocephaly) as baby can move his head from side to side.
Helps to reduce gastric reflux.
Improves baby's position so he can interact more easily with his environment and people around him.
Adjustable and removable support wedge below baby's knees to allow the nest to grow with baby during his first months.
With Oakley I was anti co-sleeping, I cant even tell you why, I just naively thought that to establish a routine (haha routine, told you I was naive) that it would mean baby should sleep in their own space and not get into bed with us. What I soon realized (along with that I was an idiot) was that we will do what works for us, what makes us comfortable and what helps us get some actual sleep for yourself. Oakley out grew a Moses basket in what felt like, well immediately, I remember wishing we had invested in a bigger crib that would fit closer to us and help us out during the night feeds. That knowledge of 'last time' encouraged me to purchase the 3 in 1 bedside crib, multi award winning snuzpod. It was so worth it, being able to reach out to her in the night, sooth her without even moving an inch, her knowing I am right there besides her seems to be working perfectly for all of us. Attaching safely to the bed, its perfect for those early stages of breast feeding, we were able to feed so easily in the night using the snuz pod, I truly believe that now we are no longer breastfeeding this way of sleeping has kept our bond so strong.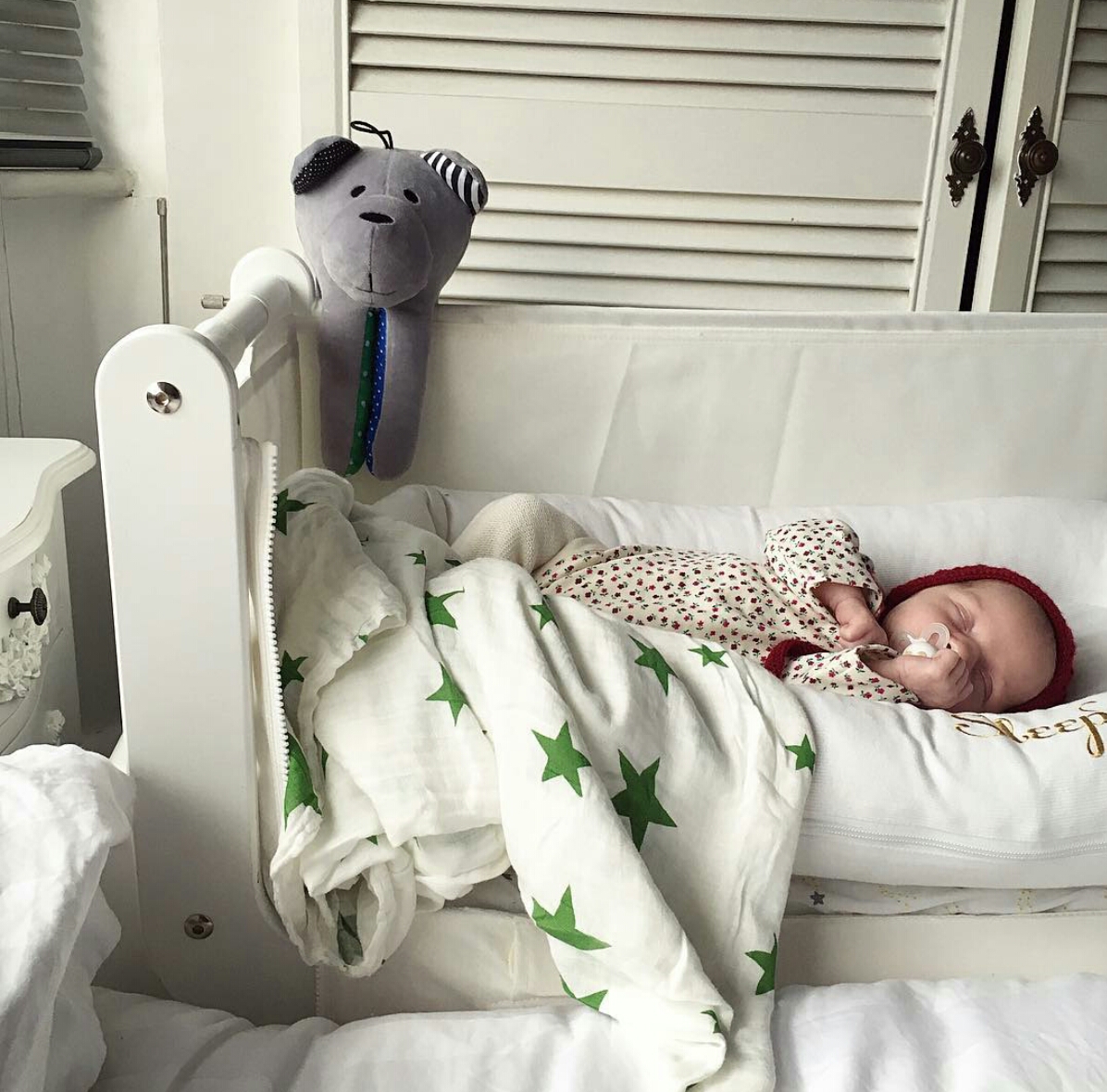 Products that have been invented by mothers are always going to be worth a try (sorry Dads but we know the stuff) The Whisbear is a multi-award winning humming bear with a variety of functions designed to help the transition from prenatal to postnatal life an easier one for our precious little newborns. The most impressive quality for me is the CRYsensor, the soothing tones of the womb are automatically activated each time baby cries, sneezes or makes any louder than normal sounds, that automatic response is most defiantly aiding my sleep let alone Olives. But the Whisbear is made up of much more, it's also a stimulating sensory toy and a cool play companion that helps babies fine motor and sensory development skills. I can honestly say we use our bear each night and it's the only sleeping aid we've used that actually works.
'Solly Baby wrap' from Solly Baby (US)
I LOVE wearing Olive, having her so close to me is the most liberating feeling, I carried her for 9 months so it feels so natural to have her against me sharing everything I do. Solly baby believe their wraps 'bring you closer to your little one, physically and emotionally, while simultaneously giving you the freedom and comfort to take on daily life.' We all need that ability to just get on but sometimes it feels impossible, to be able to cook, clean and still have both hands free to deal with whatever the toddler can throw at you. That was one of the main reasons I purchased the wrap, I'm still able to make sure Olive is safe even when I have to chase Oakley to stop him from doing something stupid. The fabric is soft, the prints are great and still allow you to show off your own personal style, only problem is that I'm yet to find a UK seller, so cost is a little higher, we frequently looked on eBay to purchase one second hand, low and behold we found one but that was after we had given up the search and ordered a new one from the official site. So so worth it though, I'm happiest when I'm carrying Olive and I have my hands free for Oakley to hold them, perfect for our Spring and Summer outdoors.
This play mat was expensive, yes let's start with that because I'm being completely honest in my review. However second child syndrome means that occasionally I feel like Olive is being somewhat left un-stimulated whilst I attend to Oakley, I wanted something interactive and fun for her whilst the said neglection is taking place (to ease the mama guilt) This mat most defiantly does this, the most impressive part for me (apart from the fact I can plug my phone into it and use it as a speaker) is the kick mat. The kick mat (and pull toys) trigger sounds and colourful light patterns each time it is touched, impressive. Another winner for me is that it's easy on the eye, yes bright colours are great but honestly this mat has enough things going on to allow for its minimalist shades and tones. It also has hidden sensory aids to encourage further interaction; detachable teething toys and the arches above can be removed to suit different age ranges. 3 stages include, 0 months+, 6 months+ and 9 months+ which mean you are able to get your money's worth.
The biggest perk of this changing bag is the size, having 2 under 2 means that I need double everything and without wanting to wheel a suitcase around with me all day I need BIG. I need compartments for small things I need in a hurry, I need enough space for the mass of essentials we need if we are going to be out for a long period of time and I need extras such as a portable changing mat and bottle bag (don't need much do I?!) Now as lovely as some other bags on the market are, 'yummy mummy' isn't for me, I wanted stylish and contemporary as to go with what I wear and also something to compliment any pushchair. This bag basically ticks all boxes, it's got everything including detachable purse and adjustable shoulder strap beautiful leather detailing. Its basically the' Victoria Beckham' of changing bags.
Another mother doing amazing things, Keira has created a fantastic range of products that are essential for parents, parents with a love of fashion also. I'm not sure why essentials are often found in just pink, blue or white, yes its timeless but its also so conventional. I love that Mamadesigns has a variety of colours, Oakley has taken his bright yellow cellular bed blanket on all his 3 holidays over seas and he still insists on carrying it down the stairs every morning when he wakes up. I have the comfort in knowing that no matter what the weather Oakley is kept both warm and cool as the open cellular construction allows airflow making them safer than normal blankets. The award winning babasac, (now this product is clever), this sleeping bag has a removable tog so no overheating in the warmer weather, it also has a zip feature making the nappy changes super easy. We initially used this sleeping bag to make the transition from crib to cot with Oakley, but we have started putting Olive in hers now so shes used to it, it has a really simple but intelligent clip under the arm pits, so even though Olive is tiny we can tighten the sac around the armpits to stop it from riding up and over her airways during the night. Snug as a bug.
I guess the thing that attracts me most to this pillow is its appearance, feeding pillows don't come in a vast variety of designs. I remember Oakley's just sitting there and well quite frankly sticking out like a sore thumb, with no other use than occasionally propping him up between feeds too it was only used for feeds then it was shoved behind something out of sight. This cushion however sits on Olives rocking chair and blends in so nicely in her room, its pink and shaped like a bird, so much more fun and the details with the printed sections caught my eye too. Its super soft as its a fleecy material that keeps her snug during night feeds and makes tummy time comfty too. Yes I know its just a pillow, but if your going to invest in one why not make it multi functioning and use it longer than just the feeding stage.
One of the most frequent questions I am asked always involves the double buggy scenario, 2 children under 2 (initially, Oaks is now in fact two years old) I didn't even have one doubt about purchasing a double pushchair, I think if you have any doubts then perhaps don't spend a fortune, shop around, find an alternative, perhaps a buggy board attachment or even borrow one from a friend or family member. I appreciate that most (if not all) double frames are ridiculously expensive, I wanted the Bugaboo Donkey so badly but couldn't part with the £1,300 (you could actually buy a car with that) So here is my little secret, ours is second hand. We got ours from a local seller on Ebay for less than half the price, a little sprucing, a good clean, some new fabric and some snazzy handle bar covers and taa daa! Good as new!
I knew I needed a double pushchair because Oakley loves a good nap, he still enjoys a nap each day and the thought of being out with both babies and a grumpy toddler makes me nervous (plus I am not strong enough to carry him) Secondly, for everyone's safety (and my sanity) I would not feel comfortable walking a great distance not having the ability to keep Oakley as close to me as possible, not until he is listening better and able to be educated in road safety. Those reasons alone were enough. The perks of this frame is that it can be used in both single mode (with a shopping basket) and double mode, each function with a big basket underneath for extra storage. Considering its large size, it still folds down enough to fit with ease into the boot of the car. The adjustable handle is suitable for all heights, my pet hate is having a handle too low, even Daniel who is 6ft plus is able to push the frame without having to arch his back. Lastly, I get to see both my babies at the same time, Yes i know what your thinking and that the practical side of me screamed that this pushchair was going to be a logistical nightmare too, would it fit through doors? Would I knock things of shelves? I considered this, and occasionally trying to maneuver around a badly laid out store I want to tell myself 'I TOLD YOU SO' But emphasis on the 'occasional' part, the majority of the time we get on just fine. I will repeat the most important part though, I get to see and soothe both my babies at the same time and with ease.
Carseat of dreams, simple as that. I only wish I had decided to invest in one with Oakley so that we could of used it twice. A reclining car seat, the convenience in this is so underrated, being able to make the transfer from car to pushchair without the worry of a '2 hour time frame' is a great aspect. Never wake a sleeping baby they say, and you never have to as they are completely safe sleeping for as long as they wish with one simple tug.
"A new function of the Cloud Q is that it can be changed to a horizontal position outside of the car. With a longer leg-rest and a lie-flat position, the child can lie comfortably and in an ergonomically correct position." -website
Olive was so tiny and still doesn't have a strong head or neck, this was one of the main issues that pushed us to getting the Cybex, these seats have been engineered to suite premature babies and very small newborns, the insert is designed to support babies neck muscles and reflexes eliminating the chance of babies head falling forward during sleep (which can lead to breathing difficulties) This car seat grows with your child, meaning you will most defiantly get your moneys worth all whilst having phenomenal safety measures. An adjustable head rest and side impact bars which can be extended to the cars door, are the added extras that sold this car seat to me.
I really hope this has been informative enough for any new parents making those difficult decisions, when parting with our well earned money its nicer to know we truly believe in the products themselves. Ask around, read customer reviews and ask staff members for demonstrations and honest opinions. That 'baby shopping list' can feel never ending, try and make choices that will benefit you in the long run, rather than just short term, consider additional extras that might make your life a little easier or suite your lifestyle better.