Our 'bold' living room makeover
So sorry its taken me forever to get this blog post together, I'm a terrible blogger at the moment and can barley find the time to scroll Instagram let alone dedicate hours to writing on here but I WILL improve.
So... we decided to give our living room a makeover following a rash decision to order new sofas, we needed new sofas as ours were tired and around 6-7 years old. It kind of just happened one day when we were both in a good mood and we actually agreed on a set that we loved (minus the fact Daniel wouldn't let me order the dreamy perfect blush pink foot stool) We settled on a light grey marl 3 & 2 seater and a citrus coloured foot stool, which came included with matching scatter cushions too (bonus) The 'L' shape sofa we had was measured perfectly to fit the living space in our first home, our current space however was not compatible. We have spent the past almost 4 years trying every layout possible to utilize what we had and we failed each time miserably. The current situ was a broken sad looking 'L' shape which meant one dodgy non existent arm rest, also I was so tired of Oakley ripping off every 15 cushion backs around 125 times a day. The sofas were ready for delivery 3 weeks before they were due to be so it meant operation 'pinterest board' needed to become a reality in 1 day only, turns out decorating with 2 kids in tow is basically impossible so we shipped them off for the best part of the day and some serious Laurence Llewelyn-Bowen shit was about to go down.
I sought inspiration through Pinterest, pinning all my favourite interior ideas, colours and accessories onto a board, I love pinterest but It defiantly sets my standards far too high and leaves me with these big dreams that feel like we will never be able to accomplish. We had to be realistic about what we could afford and that was not a whole new bunch of furniture, we had a very small budget for just paint and a few new accessories. See said Pinterest board below.
If you have followed me for some time you will know I'm all White and Grey everything, we have no real colour or print through out the house just muted tones. Although it still feels cosy and homely our lives have changed so much these past few years, the children have bought so much colour into our home in many ways that I wanted to go bold and bright to represent our colorful new life. The concept of 'Scandinavian' design is currently on the rise and the days of 'shabby chic' seem no more, well at least that how it feels each time I scroll my Insta feed. Instagram is so full of fabulous interior accounts and I followed so many already that had me itching to makes changes, lethal in one sense but in another sense the real life inspiration was great. So I will show you my favourite interior accounts and the pictures that inspired me on my makeover...
First up Emma of @emma.hellocake a friend of mine and my chief cake maker, she and her husband have both recently moved into their new home which they built themselves (Impressive isn't it?) I'm super jealous of her beautiful kitchen diner and its her Navy blue wall that first had me considering the bold change.
Secondly, Rebecca of @rvk_loves I have followed Rebecca for many many years and watched her following grow (very well deserved might I add) Her current home is undergoing renovations, looking more beautiful with every post. What I love the most is her styling, practically effortless, she mixes both a modern and traditional twist to really showcase her homes features. The shelving in her living space are what got me wanting to make the most of my alcoves.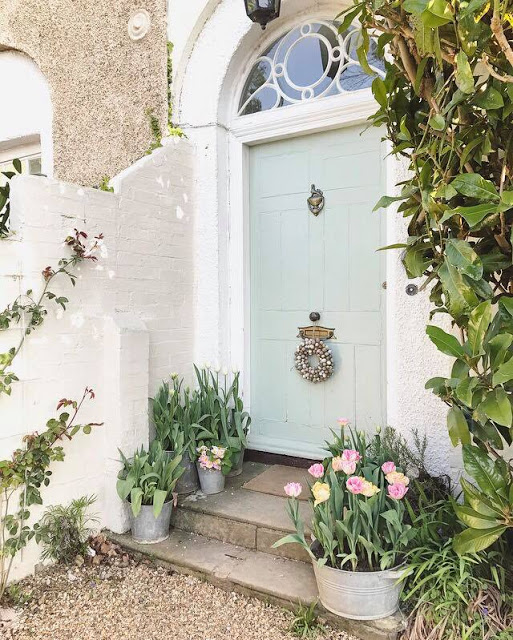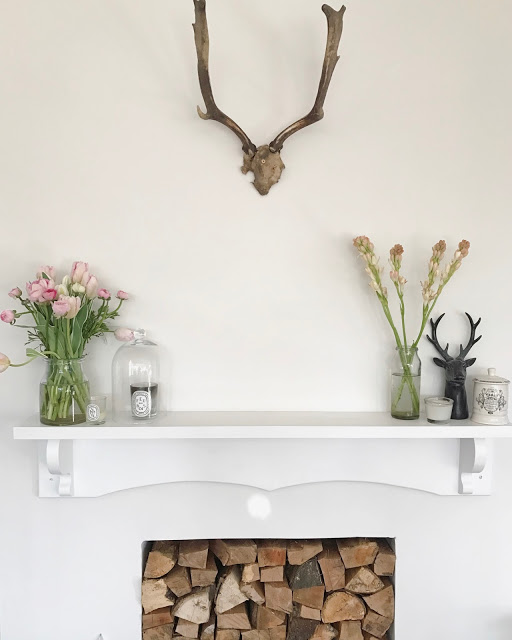 Thirdly, Lovely mummy Lucy of @__itslucy__ who is renovating her stunning Victorian terrace restoring its natural features, whilst adding contemporary elements making it a home. So bold with her colour choices, drak grey and navy walls whilst still keeping her space looking light and airy, some serious Scandinavian inspiration on her feed.
Fourth up is Kate from famous account @overatkates another lady that does dark bold colours so well, stunning styling and furniture to die for. Feature wall paper, amazing prints (check out the wallpaper in one of her bathrooms, so cool) Another account that basically makes me want to redecorate the whole house from top too bottom, perhaps now I'm a little braver I may go wild with printed wallpaper too.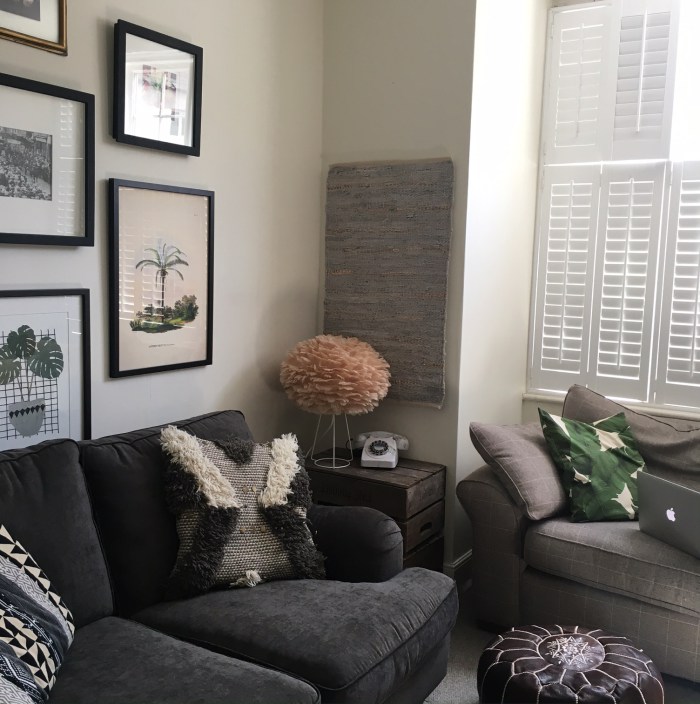 and last but by no means least Vickie certified house faffer over on@x_mrsvjones_x mother of 2 and owner of the sofa of dreams, massive inspiration from her account and I especially like her cozy living space and pink footstool (Yes I'm mentioning the pink footstool again, still not forgiven Daniel for not allowing me one.) I love all her small touches, shelving units adorned with beautiful accessories, another mix of tradition and contemporary.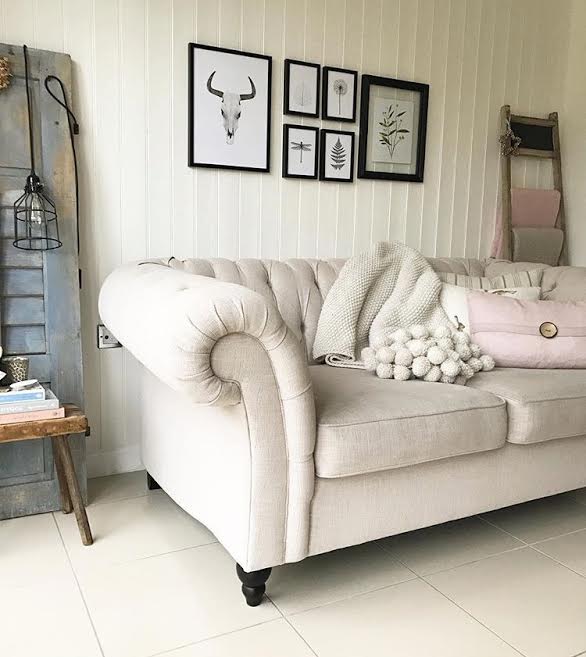 Inspiration found, head full of ideas and desperate to get started we went paint shopping, like I have said before we were on a budget (always on a bloody budget) Finding the right Navy paint was harder than you would believe, just when I found one I liked i would compare it too another and realize it was too bright, I didn't want a tone too dark but it needed to be deep. We decided on a Crown paint, called 'Midnight Navy' teamed with an off white called 'Canvas White' as suggested on the navy paints tin (easily influenced, plus theres only so many off white samples a girl can stare at)
So lets talk accessories, I needed a way to make sure the new statement wall was not the only bold colour throughout the room. Although I didn't want to over coordinate, we got a couple of plain navy cushions for the sofa which matched the statement wall perfectly from next for only £10 each. We also went with a citrus coloured footstool to add another colour to our bold palette, this meant that our scatter cushions (which were including with the sofa) would have a touch of citrus in them too. I budgeted £150 for both a rug and a mirror, online shopping was a bust, everything I loved was way to expensive but I wanted a statement mirror that would really pop against the new navy wall. Only one answer to this scenario and that's Home Sense, I visited with my budget and was quids in with a huge gold antique circular mirror (£59.99) and a printed rug (£79.99) which was fair in colour as a contrast against the juxtaposing bold colours we had just added. I wanted to add a little metalic touch for a contemporary update on my current accessories, so I added a few gold frames from Tiger for just £2 each, and I touched up a few accessories I already had with a lick of gold spray paint. That seemed all we needed to bring the room into a modern version of what It was before, the room now had the Scandinavian touches I wanted.
Grey and cream check vase- Next, Gold frames- Tiger Uk, White barn star- Cox and Cox, Gold 3d initial- Hobby Craft, Gray family print- Buttered Toast Designs, Canvas- mypicture.co.uk, Mr & Mrs Mugs- Anthropologie, Wooden memory box- Dust and things, Clay picture frames- Archies Clay house, Mirrored star- TKMaxx, all other accessories have been collected over the past few years.
The shelves were built by my husband, a joiner by trade so always willing to bring my ideas to life. He cut down MDF board, each shelf was custom made to fit that exact part of the alcove, strangely each shelf was slightly different. Then to add real character and finish he edged them with a beading, similar to the way you would run a skirting board around the room, it added that professional finish we were after, they defiantly don't look like a 'do it yourself' project, so thanks Hubby!
So here goes... the before and after pictures. Enjoy!
All in all a massive success, We had the best part of one day to get all the work done (of course we shipped the kids off, we are not completely mental) I defiantly work better under pressure, we had the phone call to say our sofas were ready Friday so off we went to buy the paint, New rug and mirror purchased Saturday, Sunday the room was complete and Monday the sofas finished it off. Its everything we imagined it would be and more, it still features all our favourite and sentimental things we've collected over the years, with new touches to bring the room up to date. It now showcases our colourful life, filled with fun and laughter. And although I swore it was an adult only room (which it will be most of the time) I love how much Oakley loves it, plus its the perfect coffee spot when the babies are snoozing on the new sofa.
Thanks for taking the time to read this post, any questions feel free to leave them in the comments box.